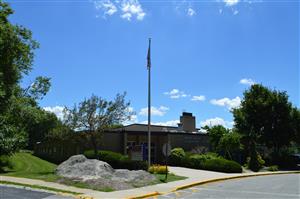 Ms. Randi DeBrito
Principal
Ms. Linda Curcio
Secretary

Ms. Debra Kalish
Secretary

Ms. Lauren Provost
Guidance &
Anti-Bullying Specialist

Ms. Kerri Adams
Nurse, X5613

School Hours:
8:30 am - 2:50 pm
2 Francine Place
Oak Ridge, NJ 07438
(973) 697-2414
Fax (973) 697-2049
---
Dear Parents and Guardians,
As required by the New Jersey Department of Education (NJDOE), White Rock Elementary will administer the PARCC for English/Language Arts (ELA) and Mathematics for students in third through fifth grade. Students will sit for one unit of the PARCC a day. Assessments will be delivered online via computer technology. Each testing session will vary between 60 and 90 minutes in length. The testing dates are as follows:
| | |
| --- | --- |
| Wednesday, May 3 | English/Language Arts (Unit 1) |
| Thursday, May 4 | English/Language Arts (Unit 2) |
| Friday, May 5 | English/Language Arts (Unit 3) |
| Monday, May 8 | Mathematics (Unit 1) |
| Tuesday, May 9 | Mathematics (Unit 2) |
| Wednesday, May 10 | Mathematics (Unit 3) |
| Thursday, May 11 | Mathematics (Unit 4) |
| May 12-19 | Make-Up Testing (As needed) |
The PARCC assessments are designed to provide parents with important information regarding their child's progress towards meeting the core curriculum standards as well as the goal of being college and career ready. In addition, the PARCC assessment provides detailed diagnostic information about each student's performance that educators, parents and students may use to enhance foundational knowledge and student achievement.
Our faculty has been working to familiarize your child with the PARCC testing platform. In order to better understand the test, I encourage you to log in to the PARCC website (www.parcconline.org) and complete a practice test. This will give you a better feel for the types of questions to which your child will be expected to respond.
Students should bring ear buds or headphones for testing, and a book to read if they finish early. No personal devices will be allowed in the testing site during testing. To help ease students' testing concerns, please ensure your child eats a good breakfast each testing day and gets plenty of sleep each night.
Thank you for supporting your child in this educational experience. If you have any questions or concerns, please do not hesitate to contact me.
Sincerely,
Mrs. Randi De Brito, Principal
------------------------------------------------------------------------------------------------------------------------------------------------------------------------------
Dear Parents & Students,
It has been wonderful to get a taste of spring recently, and I hope you all had the opportunity to enjoy the warm weather. Our White Rock students were certainly happy to get outside!
Here are some things that our students have been involved with over the last month or so:
Third grade students are learning to tell time on analog clocks in math.


In science, third graders are learning about the water cycle and have created clouds in class and experimented on making clouds rain.


Third and fourth grade students have been writing poetry in their library classes in preparation for our Poetry and Pancakes celebration


Fourth graders are preparing for their Battle of the Books competition. This competition will take place on February 15th.


In math this month fourth graders have been working on division and have begun dividing with remainders. Students enjoy using manipulatives such as counters and place value blocks to demonstrate division.


Fourth grade students are completing Animal Adaptation projects and will present them to their classmates


Some of the fifth grade classes completed a research activity on the three types of symbiotic relationships. The relationship between the two organisms can be described as mutualism, commensalism, or parasitism.


All 5th graders learned about the United States court system by participating in mock trials. Students decided there was enough evidence to bring the Big Bad Wolf up on four criminal charges (the destruction of Ann's straw house, the destruction of Bob's stick house, the murder of Ann and the murder of Bob) during Grand Jury proceedings. All students were assigned roles (attorney, witness, juror, bailiff) to prepare for the criminal trial. Teachers played the role of the defendant, Big Bad. During the actual trial attorneys provided opening statements, questioned their witnesses and provided closing statements as the jury took notes. The jury deliberated and then read their verdicts to the court.


The White Rock CARES program is up and running! CARES stands for Courtesy, Achievement, Responsibility, Effort, Supportive. Each month every classroom teacher and specialist select a student who has demonstrated these character traits. All winning students have lunch with the principal to reward their excellent behavior.


5th Grade Band: students have added a new key signature to their skill set, the key of E-flat major. They are also learning several new and more advanced pieces that feature multiple key signatures. Percussionists are continuing to progress on the bells which they just started this school year.
Mrs. Randi De Brito
Principal