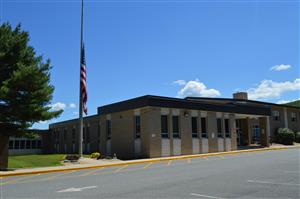 Dr. Kelly Cooke
Principal
Ms. Kathy Cutrona
Asst. Principal
Mr. Robert Hayzler
Asst. Principal
Ms. Barbara Fancavilla
SAC & Anti-Bullying Specialist
Ms. Liz Conley
Nurse, X5720
School Hours: 7:35 am - 2:15 pm

1000 Weldon Rd.
Oak Ridge, NJ 07438
(973) 697-1980
Fax (973) 697-1348
May 2017
Welcome to Jefferson Township Middle School's Home Page!
Thank you for visiting our school's homepage! JTMS students continue to shine!
On Friday, April 21st and Saturday, April 22nd, the Jefferson Township Middle School Players performed Seussical, the Musical, Jr. This production featured over 50 individual students from all three grade levels. Popular Dr. Seuss characters such as Horton the Elephant, (portrayed by 8th grader, Tyler Hayes), Gertrude McFuzz (8th grader, Olivia Costanzo), JoJo McDodd (6th grader, Nicholas Karamanol), and JoJo's parents, Mr. and Mrs. Mayor (7th graders, Andrew Cooper and Elenda Spagna) led a large cast of colorful characters from the wonderful world of Dr. Seuss. The students including cast and crew worked tirelessly from early December to April's performance to put the show together. Students created the unique props and elaborate sets, helped with stage lighting, engineered the sounds, finalized costumes, and decorated themselves and each other in colorful make-up styles. The support of Middle School and High School administration, department supervisors, teachers, and staff was invaluable to the success of this year's musical. A very proud moment for students and staff at JTMS!
Thank you for visiting and please be sure to check out our webpage, on the left, for upcoming events, announcements, and activities for JTMS students. Also, please review the Virtual Backpack in Quick Links for subsequent community events and camp flyers for students.
Sincerely,
Dr. Cooke
Principal