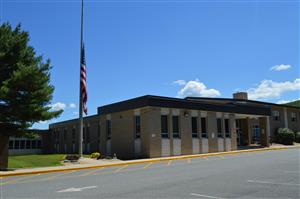 Dr. Kelly Cooke
Principal
Ms. Kathy Cutrona
Asst. Principal
Mr. Robert Hayzler
Asst. Principal
Ms. Barbara Fancavilla
SAC & Anti-Bullying Specialist
Ms. Liz Conley
Nurse, X5720
School Hours: 7:35 am - 2:15 pm

1000 Weldon Rd.
Oak Ridge, NJ 07438
(973) 697-1980
Fax (973) 697-1348
---
April 2017
Welcome to Jefferson Township Middle School's Home Page!
Thank you for visiting our school's homepage! Student involvement continues to be center stage at JTMS!
Now that PARCC testing is behind us, teachers and staff have resumed their routine schedules and continue to provide an exciting and dynamic learning atmosphere for all. Sixth graders have been researching various topics related to Civil Liberties and are preparing for their Living Museum presentations in early April. Students were paired with a partner and assigned the name of one influential person who contributed to the social reform of civil liberties and the Civil Rights Movement during the 19th and 20th Centuries including minority races and gender equality. Students were asked to collect research in order to create a comprehensive formatted written presentation. The partner duo will then use the information gathered to "become" that person as part of our Living Museum. Students will invite parents and guardians as well as peers to attend the presentations and learn about these influential civil rights leaders.
Also in April, math students in the seventh grade will focus on creating mazes by using angles, finding slopes, and conducing precise measurements. Students will work in small groups to create the mazes out of cereal boxes. A specific math rubric design will guide the students' project while also including a series of test runs using a ball. After the students test their mazes, they will attach all mazes in order to see if a ball will travel through the one large maze design.
Eight grade students are researching and studying The Holocaust in a unit titled, "The Journey of Understanding Others". After presenting their project to parents/guardians, students will conclude their unit of study by hosting a Holocaust survivor at JTMS who will share her personal and moving story as a survivor of the Holocaust.
Finally, the JTMS Drama Club has been rehearsing for their amazing production of "Seussical, the Musical, Jr." The 57 student actors in Grade 6, 7, and 8 have been dancing, singing, and reciting lines since January. As the finishing touches take place, notifications and advertisements have been disseminated to all the schools in Jefferson Township in hopes of attracting a record audience. The entertaining show is scheduled for April 21st and April 22nd at 7:00 p.m. and 2:00 p.m., respectively.
Thank you for visiting and please be sure to check out our webpage, on the left, for upcoming events, announcements, and activities for JTMS students. Also, please review the Virtual Backpack in Quick Links for subsequent community events and camp flyers for students.
Sincerely,
Dr. Cooke
Principal