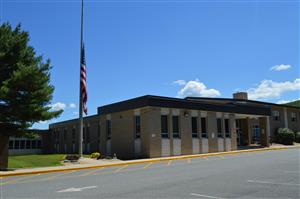 Dr. Kelly Cooke
Principal
Ms. Kathy Cutrona
Asst. Principal
Mr. Robert Hayzler
Asst. Principal
Ms. Barbara Fancavilla
SAC & Anti-Bullying Specialist
Ms. Liz Conley
Nurse, X5720
School Hours: 7:35 am - 2:15 pm

1000 Weldon Rd.
Oak Ridge, NJ 07438
(973) 697-1980
Fax (973) 697-1348
---
February 2017
Welcome to Jefferson Township Middle School's Home Page!
Thank you for visiting this month! JTMS students have been exceptionally busy in many facets of their daily life in school and the month of January was no exception. Along with a comprehensive academic program, students participated in a week-long celebration of Drug Facts commencing January 25th and culminating on Monday, January 30th. Students and staff celebrated Drug Facts Week with activities sponsored by the Middle School PTA and the Jefferson Township Municipal Alliance, JTMAC.
On January 25th, the Middle School PTA and JTMAC hosted "Project Purple" for our students during the lunch periods. Project Purple is a drug and alcohol-free national program of which our student body participated in by writing personal drug-free slogans on a mural that promoted an anti-substance abuse lifestyle.
On January 26th, the Jefferson Township Municipal Alliance hosted recovering drug and alcohol addicts, Jessica and David, to speak to our 7th and 8th-grade students during health classes. Both Jessica and David shared their experiences and lives as active drug and alcohol substance abusers/users. At the conclusion of the presentation, students completed an evaluation of which they stated, "this program was one of the best programs they witnessed" and they unanimously agreed to remain substance free!
On January 27th, the entire student body received anti-substance abuse education from our drug-free high school group, Teen Pep. The high school students moved from table to table during students' lunch periods and engaged students in conversation regarding their knowledge of drug and alcohol facts.
On January 30th, the 8th-grade class traveled to the high school auditorium to hear the program titled, "Hopes and Dreams" as authored by Mr. Jack Elsmore. "Hopes and Dreams" is a true story of one family's journey through addiction.
In summary, drug facts week is only a snapshot of the numerous activities and on-going education the JTMS students experience along with community co-hosts to promote a positive, healthy and drug-free lifestyle.
Thank you for visiting and please be sure to check out our webpage, on the left, for upcoming events, announcements, and activities for JTMS students.
Sincerely,
Dr. Cooke
Principal