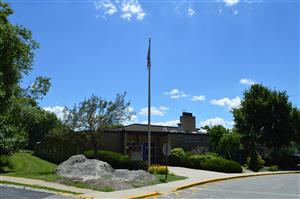 Ms. Randi DeBrito
Principal
Ms. Debbie Kalish
Principal's Secretary

Ms. Lorrie Kern
Secretary

Ms. Lauren Provost
Guidance &
Anti-Bullying Specialist

Ms. Kerri Adams
Nurse, X5613

School Hours:
8:30 am - 2:50 pm
2 Francine Place
Oak Ridge, NJ 07438
(973) 697-2414
Fax (973) 697-2049
---
Dear Parents and Guardians,
It's hard to believe it is already February 1! The past month has gone very fast, with students busily working and learning in their classrooms. There have been many fantastic learning experiences, a few are highlighted below:
White Rock School received a $1,100 grant from Atlantic Health System as part of their A+ Challenge: Actions for Healthy Living. With this money we are planning on purchasing a water filtration/water bottle filling station as well as some motion desks and/or chairs
The entire White Rock School took a field trip to AMC Theaters in Rockaway to see the movie Wonder. Many teachers have shared this book with students as a Read Aloud and many students have read it independently as well. The messages in the movie about acceptance, friendship and kindness are wonderful and were well-received by everyone. It was a terrific whole school experience!


Third grade students are enjoying the new nonfiction reading and writing units.


Third grade students are enjoying their lunchtime clubs. There are many choices of clubs to pick from during recess such as Lego Club, Yoga Club, Computer Club, Movement Club (Go Noodle), Chess Club, and Zumba Club.
Fourth grade recess clubs are getting off to a good start. The kids seem excited to join the different clubs like Lego Club, Yoga Club, Drama Club and Chess Club


The switch to informational text reading and writing is underway in fourth grade. The students are diving into the Non-Fiction selection of books!
Fifth grade students are actively preparing for their upcoming mock trial of the Big Bad Wolf. Students have been assigned roles that include witnesses, bailiffs, lawyers, and jurors. Students are excited to put the Wolf on trial to determine if he is innocent or guilty!


Fifth graders are studying ecosystems and experimenting with predator and prey relationships of animals, as well as discovering what factors best promote healthy plant growth
Have a wonderful month!
Mrs. De Brito