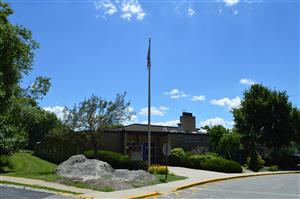 Ms. Randi DeBrito
Principal
Ms. Debbie Kalish
Principal's Secretary

Ms. Lorrie Kern
Secretary

Ms. Lauren Provost
Guidance &
Anti-Bullying Specialist

Ms. Kerri Adams
Nurse, X5613

School Hours:
8:30 am - 2:50 pm
2 Francine Place
Oak Ridge, NJ 07438
(973) 697-2414
Fax (973) 697-2049
---
**Dismissal Monday and Tuesday, November 19 and 20, will be at 1:05. On Wednesday, November 21, dismissal will be at 1:20**
Dear Parents and Guardians,
Happy Fall! Although fall seems so short-lived this year due first to the heat, then to all the rain and now the cold weather has kicked in.
Students and staff are hard at work at White Rock. We are more than halfway through the first trimester and the engaging learning activities are in full-swing everywhere you look. In addition to the regular classroom activities, students have been immersed in learning in activities outside of the classroom as well.
We look forward to seeing you at Parent-Teacher conferences November 14-16! Below are some of the other upcoming activities and events at White Rock:
Veteran's Day Program - November 12
Early closing at 1:20 for professional development - November 13
5th Grade Family PE Night Rescheduled to November 19
Early closing at 1:20 for Thanksgiving - November 21
Christmas in the Village performances by our band and chorus - December 1 Chorus-11AM at St. Gabriel's Church, Band-12:10 PM at Methodist Church
TREP$ Marketplace - December 5, 6:30-8:00 PM (Snow date December 6)
4th Grade Band & Chorus Concert - December 11, 9:30 and 1:30 performances (snow date December 12)
5th Grade Band & Chorus Concert - December 18, 9:30 and 1:30 performances (snow date December 19)
Just Dance Tournament - December 19, 9:00 AM
Holiday Parties - December 19
Early Closing at 1:20 for Winter Break - December 20
School Closed for Winter Break - December 21 - January 1
School Reopens January 2