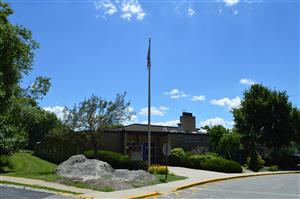 Ms. Randi DeBrito
Principal
Ms. Debbie Kalish
Principal's Secretary

Ms. Lorrie Kern
Secretary

Ms. Lauren Provost
Guidance &
Anti-Bullying Specialist

Ms. Kerri Adams
Nurse, X5613

School Hours:
8:30 am - 2:50 pm
2 Francine Place
Oak Ridge, NJ 07438
(973) 697-2414
Fax (973) 697-2049
---
Dear Parents,
Happy New Year! As we begin a new decade, I want to thank all of our parents and community for your continued support of the programs and activities at White Rock School. Whenever we ask for your help, you always resopnd with your time, donations and commitment to your children. We appreciate all you do and are so thankful for such a great community to teach in.
Here are a few highlights from the last month:
Fourth grade classes have been doing projects over the last month to give back to the community. They ran the non-perishable food drive for the entire school, creating posters to advertise the collection and counted the amount of food donated each day and reported it back to the school. Almost 1,000 canned goods and nonperishable foods were collected for the local food bank. The 4th grade is also making cookies to donate to the local food pantry.
64 5th grade entrepreneurs from White Rock School launched their own business at the TREPS Marketplace on Dec. 4! It was an exciting night for our White Rock students and community!


5th grade classes took a joint field trip to the Newton Theater to see the play Elf, Jr. One of the Stanlick 5th grade students was performing in the play.


White Rock 4th grade band and chorus presented their holiday concert this week to a packed house of students, staff and their families. The two groups did a great job!
Sincerely,
Mrs. De Brito

January 10 - STEAM Museum
January 20 - School Closed for MLK, Jr. Day Observatnce
January 24 - 3rd Grade Ellis Island Simulation
February 4 - Early dismissal at 1:20 for Teacher Professional Development
February 5 - Mindfulness Assembly
February 7 - Dr. Harte, 3rd Grade Dental Health Assembly
February 14 - Valentine's Day Class Parties - 1:30 PM
February 17 - School Closed for President's Day
February 24-26 - 5th Grade Mock Trials