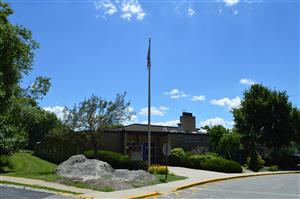 Ms. Randi DeBrito
Principal
Ms. Debbie Kalish
Principal's Secretary

Ms. Lorrie Kern
Secretary

Ms. Lauren Provost
Guidance &
Anti-Bullying Specialist

Ms. Kerri Adams
Nurse, X5613

School Hours:
8:30 am - 2:50 pm
2 Francine Place
Oak Ridge, NJ 07438
(973) 697-2414
Fax (973) 697-2049
---
Dear Parents,
The school year is rapidly winding down. Students have NJSLA testing this month, followed by their field trips and many other terrific end of the year activities. In between all of it, we are still focused on learning and completing the curriculums before the end of the school year. Here are some of the great things that have been happening at White Rock over the last month:
White Rock began their One School, One Book program on May 13. All students and staff are reading Shiloh by Phyllis Reynolds Naylor. Students are reading a chapter of the book at home each night with their families and coming into school to discuss it with their peers. There are trivia contests on Fridays about the readings and we will culminate the activity with watching the movie Shiloh and comparing and contrasting the two.


May is Makerspace month in the library. Students are exploring various maker and STEM tools and creating amazing projects. We are learning about circuitry with Little Bits and Snap Circuits, enhancing spatial and engineering abilities with building tools like Strawbees, Keva Planks, and LEGOs, creating beautiful cards and bookmarks, designing characters and worlds for video games using Bloxels, exploring the world with Google Goggles Virtual Reality, and learning the basics of 3D printer software Tinkercad. The students are challenged with task cards but many of them have their own fantastic ideas!


3rd Grade classes are starting their poetry unit in language arts

3rd grade classes are reading the book Wonder and talking about kindness


5th grade students are receiving an introduction to the DARE program from the Jefferson Township Police Department. This extremely influential program is a powerful example of how the community and school can work together to keep students from using drugs.


5th Grade Band performed solos and ensembles at the Rockaway Mall Project on May 1 and were recognized by the Mall Project music program director for being poised, professional, and musical - he said they stood out from many of the other school group that performed that week!
4th Grade Band performed two Spring Concerts, one for the school and one for parents and families, on May 7. In just 7 short months, the students have graduated to performing full-length band pieces incorporating many of the new skills they have learned since they first started their instruments in the fall.


In music classes the third graders are loving playing their new recorders
Upcoming Events and Activities

May 6-10 - Teacher Appreciation Week
May 7 - 4th Grade Concert, 6 PM
May 9-16 - NJSLA testing
May 17 - 5th Grade Intro to DARE
May 17 - PTA Family 80s Night, 6 PM
May 17-30 - Art Show
May 18 - Walk for Freedom Fundraiser
May 20-21 - NJSLA Science testing, Grade 5
May 22 - 3rd Grade Field Trip
May 29 - 5th Grade Band & Chorus Concert, 6 PM
May 29 - 4th Grade Field Trip
June 3 - 3rd & 4th Grade Field Day (Raindate June 5)
June 4 - 5th Grade Field Day (Raindate June 6)
June 7 - Health & Safety Fair
June 10 - 2nd grade visits White Rock & Parent Information session (6 PM)
June 11 - Interdistrict Debate at Stanlick
June 12 - 5th grade Teambuilding Field Trip
June 13 - 5th grade visits Jefferson Middle School
June 14 - 5th grade Farewell
June 19 - 5th grade picnic (Raindate June 20)
June 21 - 5th Grade Talent Show, 9 AM
June 24 - 5th grade/Faculty Basketball game
June 25 - Last day of school, 1:20 dismissal


Have a great month!
Mrs. De Brito, Principal