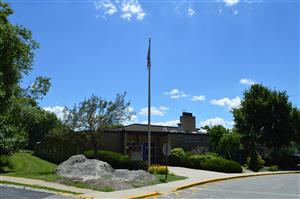 Ms. Randi DeBrito
Principal
Ms. Debbie Kalish
Principal's Secretary

Ms. Lorrie Kern
Secretary

Ms. Lauren Provost
Guidance &
Anti-Bullying Specialist

Ms. Kerri Adams
Nurse, X5613

School Hours:
8:30 am - 2:50 pm
2 Francine Place
Oak Ridge, NJ 07438
(973) 697-2414
Fax (973) 697-2049
---
**The Parent Portal is now open to sign up for Parent-Teacher conferences. Directions for signing up can be found in the Announcements section on the left side of this Home Page. The Portal will be open to sign up until November 12. **
Conferences will be held on November 13-15. School will be dismissed at 1:05 on these 3 days.
Dear Parents,
Well, it is definitely starting to feel like fall this week! Time for coats and gloves! Please remember that we send students out for recess as long as the weather is above freezing, so have them bring jackets to school with them each day.
Please sign up for a conference with your child's teacher (and any other specialists in the building) this month. This is a fantastic opporutnity to learn about how your child is progressing this year, and if there are any ways you can help them at home. The teachers value the partnership they have with parents in helping to educate your children, and really want to meet with every child's parent during conferences.
Here are some of the wonderful learning experiences that have taken place over the past month:
Third grade students are doing an inquiry based lab about Immigration in their Social Studies classes.


Fourth grade students had fun creating their haunted houses at home. Once they brought their houses to school, students are working in writing class to write descriptive paragraphs about the setting of their haunted houses


Fifth grade social studies students are analyzing primary sources using the curriculum adopted HIPPO format.


3rd- 5th grade Art students participated in a pumpkin painting design contest. Students created an original design for a painted pumpkin and parents chose the top 20 finalists. Students then voted for the winners who will get to paint their design on a huge pumpkin!


General and vocal music classes are working on integrating music technology into every lesson! In 5th grade students are working with music notating software to write their own compositions, as well as an electronic music software to write different beats and loops. In 3rd and 4th grade, students are working with a music software to learn to read and play recorder music. By using microphones, students can play right into the computers and identify whether or not they are playing correctly. All music classes are also playing interactive SMARTboard games which they love using for warmups!
Sincerely,
Mrs. De Brito
November 6 - Picture makeup day
November 7-8 - School Closed for Teachers' Convention
November 11 - 3rd Grade PE Night
November 12 - Veteran's Day Program
November 12 - 4th Grade PE Night
November 13 - 5th Grade PE Night
November 14 - PTA Meeting, 7:30 PM at Cozy Lake School
November 13-15 - Parent-Teacher Conferences, 1:05 dismissal
November 27 - Early Dismissal for Thanksgiving break, 1:20 PM
November 28-December 1 - School Closed
December 4 - Author Visit
December 4 - TREP$ Marketplace 6:30-8:00 PM