Lifetouch Picture Day!!!!
Picture Day Make ups:
Date and Time TBD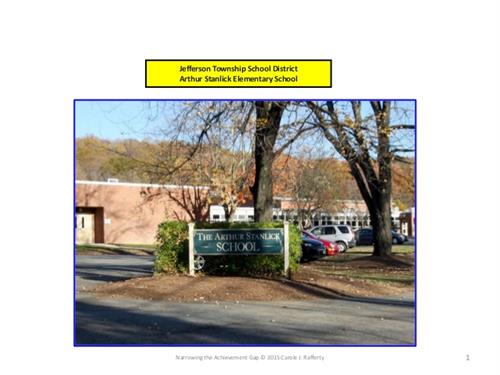 Dr. Kelly Cooke
Principal
Mrs. Lisa Kennedy
Principal's Secretary
Ms. Lyndsay LaConti
School Counselor/
Anti-Bullying Spec.
Mrs. Christine Cocca
Nurse, X5115
121B East Shawnee Trail
Wharton, NJ 07885
Main: (973) 663-0520
Fax: (973) 663- 7854
School Hours: 8:35 am - 3:00 pm
Stanlick Early Closing (When Whole District Closes Early) 1:20 pm
Stanlick Early Closing (When Only Elementary Close Early) 1:10 pm
@AStanlickSchool
Welcome to Arthur Stanlick School's Home Page!
Thank you for visiting our school's homepage. We hope you and your families are enjoying the cool fall weather. The Arthur Stanlick facility continues to work closely with Central Office and the Facilities Department to ensure our students and staff members have a safe and comfortable learning enviornment.
Please be reminded of the following school items:
Updated transportation information will be available on your Realtime Parent Portal.
Morning drop-off by parents will take place from 8:30 a.m. to 8:45 a.m. Please pull your vehicle around the back of the school and drive to the designated drop zone adjacent to the gymnasium entrance. A staff member will be present to monitor and assist your child as he/she enters the building.
Afternoon pick-up by parents will begin at 1:00 p.m. through 1:15 p.m. prior to bus arrival. Please pull your vehicle around the back of the school and drive to the designated pick-up location. In doing so, please display a sign with your child's name visible through your vehicle's window. A staff member will assist your child to meet you at your vehicle.
Students riding the bus will be dismissed at 1:20 p.m.
Please note that students are required to wear masks throughout the school day including while riding the bus and to enter the building. Please be advised that students who display symptoms of COVID-19 will not be allowed on the bus.
Thank you for visiting and please be sure to check out our webpage, on the left, for upcoming events, announcements, and activities for Arthur Stanlick students. Also, please review the Virtual Backpack in Quick Links for subsequent community events and camp flyers for students throughout the school year.
Happy Holidays to you and yours!
Sincerely,
Dr. Cooke
Principal