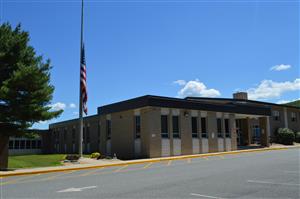 Dr. Kelly Cooke
Principal
Mrs. Kathy Tobia
Asst. Principal
Mr. Robert Hayzler
Asst. Principal
Ms. Joanne Martino
SAC & Anti-Bullying Specialist
Mrs. Liz Conley
Nurse, X5720
School Hours: 7:35 am - 2:15 pm



1000 Weldon Rd.
Oak Ridge, NJ 07438
(973) 697-1980
Fax (973) 697-1348
Welcome to Jefferson Township Middle School's Home Page!
Thank you for visiting Jefferson Middle School's Home-Page. September was a busy month. Students and staff recognized National Patriot Day in honor of September 11th by wearing Red, White, and Blue as well as observed a moment of silence to honor the victims and all those affected by the events on 9/11. Keith Hawkins, a motivational speaker, visited the Middle School to share his life experiences and to help students understand the value of kindness, self-worth, and respect for self and others. The event was sponsored by our wonderful PTA.
Our school year kicked-off with some exciting academic learning opportunities for students. Four of our newest courses have fully engaged students in the learning process. For example, in Robotics, students have been introduced to the history and three laws of modern day robotics. Students had the opportunity to participate in the Hour of Code, as well as got a quick glimpse into computer programming by solving puzzles through the Lightbot Application program. Students have also had the opportunity to work with the web-based software, TinkerCad, to create 3D designs. Sixth graders in the Robotics Exploratory class have begun building their LEGO MINDSTORMS EV3s and in the next unit of study, they will learn how to program their EV3s to do a variety of different tasks on command. Also, in our 21st Century Researchers class, students learned how to validate their sources. In doing so, students worked diligently to come up with clear, focused, and meaningful research questions. As students near the end of their cycle, they will work on synthesizing the information gathered and begin the process of knowledge sharing. In addition, students in the Speak Up and Write All About It class prepared informative presentations. In doing so, students studied the impact of nonverbal communication. Students have had collegial discussions about their topics and the process of communication. In addition, students practiced techniques for easing nerves prior to a public speaking experience. And finally, in Computer Science Discoveries, students learned how to apply the problem-solving process to real-world problems, such as planning a trip with seating arrangements. While learning about problem-solving, students also explored the components that make up a computer. Using the information about computers and problem-solving, students then worked on proposing an app that would solve a real-world problem of their choosing. As they move into the new unit about Web Development, students will continue to use the problem-solving process to begin the process of creating their own personal website.
In addition, the Middle School's Back to School Night event was well-attended. Throughout the evening, parents and guardians were entertained by 7th and 8th grade band students who played in the hallways between periods. The Middle School PTA sponsored our annual Fall Book Fair for students and staff. And finally, Picture Day in late September brought out everyone's beautiful smiles and well-dressed attire.
Thank you for visiting and please be sure to check out our webpage, on the left, for upcoming events, announcements, and activities for JTMS students.
Sincerely,
Dr. Cooke
Principal