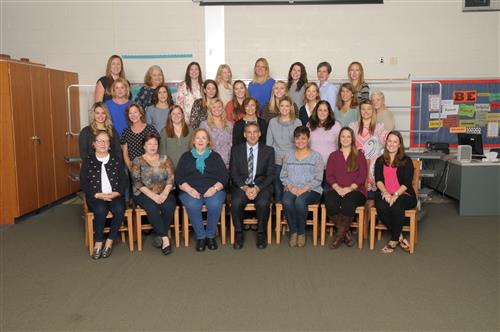 Mr. Kevin Lipton
Principal
Mrs. Yolanda Morano
Principal's Secretary
Mrs. Jennifer Seeley
Secretary
Ms. Lyndsay LaConti
School Counselor/
Anti-Bullying Spec.
Ms. Jane Hoffman
Nurse, X5115
121B East Shawnee Trail
Wharton, NJ 07885
Main: (973) 663-0520
Fax: (973) 663- 7854
School Hours: 8:35 am - 3:00 pm
Stanlick Early Closing (When Whole District Closes Early) 1:20 pm
Stanlick Early Closing (When Only Elementary Close Early) 1:10 pm

August 2, 2019
Dear Parent/Guardian:
As the portal is opening and you read this letter, it is amazing to me that there are now only three weeks left before the start of school and the summer is coming quickly to an end. I am hoping that everyone has had a chance to rest, re-energize, and enjoy the sunshine and warmth. I look forward to hearing from the students about vacations (or stay-cations), camps, and all other fun activities that they have done.
We are very excited about some of the new projects that have been completed this year. All of our third grade classrooms, two of our Child Study Team offices, the All Purpose Room, and cafeteria have had new flooring installed. Further, our main Maker Space room has been completely renovated. As always, our summer staff has been working very hard in preparing the building and planning for the new school year. All of the classrooms have been cleaned, prepared, and stocked with new supplies. The halls and floors have been re-waxed.
The new school year is a new beginning and a chance for new opportunities, new learning, and new friends. All of our scheduling has now been completed. The parent portal is open and all of the summer "mailing" information for the 2019-2020 school year is available (under the "Documents" tab) for your review. Please make sure to read all forms and click the "Acknowledge" button, where indicated. As per a recent Global Connect message, you will not be able to access your child's/children's schedules until you have completed the on-line forms (Media Press Release, Student Handbook, Internet User Contract, and Inclement Weather/Emergency Closing).
On any form that indicates it needs to be submitted, please read, print, sign, and have your child return it his/her teacher during the first week of school. Please note, however, that some specific, health-related forms (such as asthma treatment, diabetes, etc. must be accessed and completed using the district's main webpage (www.jefftwp.org- "District Offices"- "Health Services"). Please also take some time to review your contact information on the Parent Portal and update it as needed.
The Parent-Student handbook and information guide (one of the documents on the portal) provides families with important information such as arrival and departure times and procedures, attendance, code of conduct (including HIB, which is also available on the district's website), and other relevant topics. Please make sure to review this guide with your child in order to familiarize yourself and him/her with our procedures.
I would like to take this opportunity to announce some personnel changes and new teachers for this coming school year. First, Mrs. Decker will be moving from her Third Grade classroom to the Basic Skills- ELA program. It is not known at this time whether this switch will be for the entire year or just the first four months of school. Ms. Panka will be moving from Fourth grade to Fifth Grade. We also welcome the following new teachers to our building:
Ms. Sakin- Third Grade
Mrs. Wreede- Spanish
Ms. Gorman- Speech
Additionally, with much deserved congratulations, we have two teachers who have changed their names this summer. Ms. Nimmo has changed her name to Mrs. Cannarozzi. Ms. Smith (Fifth Grade) has changed her name to Mrs. Rec.
For our incoming third graders and anyone new to the school only- We will be having a student visitation day on Friday, August 30th from 9:00AM-10:30AM. During the visitation, the PTA will be hosting a scavenger hunt as a way for our new students to come in and familiarize themselves with the building. Please understand that teachers are not scheduled to be here during this time. The teachers that might be here will be busily preparing last minute items in their rooms. We do ask for your understanding of this and request that you respect the precious little time that teachers have to do this. Therefore, it is unlikely that your child will be able to meet and talk with his/her new teachers. I also ask for your understanding that the visitation day is for students that are new to the building (third graders and anyone that did not attend Stanlick last year).
I look forward to seeing you at Back-to-School night, Thursday, September 19, 2019. This is a great opportunity to meet your child's teachers, guidance counselor, and myself and to become more familiar with the great things going on at Arthur Stanlick School.
Please also be sure to view the "Early Closing Days" list on the Stanlick Web Page (under "Announcements"). This is a list of the known early closing days to date (days before Thanksgiving, Winter Recess, and for staff development).
Some early planning dates to keep in mind:
Student Visitation- Friday, August 30, 9:00-10:30
First Day of School- Thursday, September 5
Back-To-School Night- Thursday, September 19
School Pictures- Friday, October 11
I am hoping that you enjoy the rest of your summer break and I look forward to seeing everyone soon.
Sincerely,
Kevin Lipton