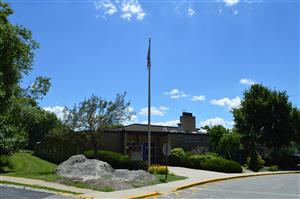 Ms. Randi DeBrito
Principal
Ms. Linda Curcio
Secretary

Ms. Debra Kalish
Secretary

Ms. Lauren Provost
Guidance &
Anti-Bullying Specialist

Ms. Kerri Adams
Nurse, X5613

School Hours:
8:30 am - 2:50 pm
2 Francine Place
Oak Ridge, NJ 07438
(973) 697-2414
Fax (973) 697-2049
---
Dear Parents and Guardians,
It's beginning to feel alot like Spring these days! Hopefully you had a chance to enjoy the wonderful weather we had on our spring break week! Now that we are back from spring break, it seems like the days fly from this point until the end of the school year. Our White Rock students continue to have wonderful learning experiences, and I have highlighted some of them below:
Third grade has been learning about Native Americans and has taken a virtual field trip to the Heard Museum in their Social Studies classes
Third grade students have begun learning about the Solar System in Science classes.
Fourth grade has been busy learning about government in Social Studies. Classes made displays that are outside of their classrooms.
Fourth grade is preparing for the mall project by collecting science animal posters, fun flip books about volcanoes, minerals, and earthquakes, and saving spectacular writing pieces.
The 5th Grade just experienced a session with the JTPD and the D.A.R.E. program. Students learned about impaired driving and distracted driving due to texting, eating or using drugs or alcohol. Students rotated through centers where they wore the impairment goggles and tried to do simple activities. This stressed to students the importance of not driving under the influence or while distracted.
White Rock School recently held its annual Science Fair. Students in all three grade levels created experiments or science projects which they brought into school to share with students during the school day and with parents in the evening.
The 4th grade Drama Club put on their performance of three fractured fairy tales last week. Students performed the three short plays for parents and guests during recess.
Students are working hard in the Art Room, preparing for their Art Show which will be on display during Parent Teacher Conferences until the end of May.
There were some winning entries in some of our Art Contests as well. Two of our students won the MCCEA Poster Design Contest and will have their designs featured in next year's calendar. One of our student's art work won at the county level in the Legion Hall Art Contest and she received a cash award.
White Rock 5th Grade Band students participated in the Solo & Ensemble Concert, which featured each instrument group in addition to select students who volunteered to prepare additional solos or small group pieces.
Sincerely,
Mrs. Randi De Brito
-----------------------------------------------------------------------------------------------------------------------------------------------------------------------------
As required by the New Jersey Department of Education (NJDOE), White Rock Elementary will administer the PARCC for English/Language Arts (ELA) and Mathematics for students in third through fifth grade. Students will sit for one unit of the PARCC a day. Assessments will be delivered online via computer technology. Each testing session will vary between 60 and 90 minutes in length. The testing dates are as follows:
| | |
| --- | --- |
| Wednesday, May 3 | English/Language Arts (Unit 1) |
| Thursday, May 4 | English/Language Arts (Unit 2) |
| Friday, May 5 | English/Language Arts (Unit 3) |
| Monday, May 8 | Mathematics (Unit 1) |
| Tuesday, May 9 | Mathematics (Unit 2) |
| Wednesday, May 10 | Mathematics (Unit 3) |
| Thursday, May 11 | Mathematics (Unit 4) |
| May 12-19 | Make-Up Testing (As needed) |
The PARCC assessments are designed to provide parents with important information regarding their child's progress towards meeting the core curriculum standards as well as the goal of being college and career ready. In addition, the PARCC assessment provides detailed diagnostic information about each student's performance that educators, parents and students may use to enhance foundational knowledge and student achievement.
Our faculty has been working to familiarize your child with the PARCC testing platform. In order to better understand the test, I encourage you to log in to the PARCC website (www.parcconline.org) and complete a practice test. This will give you a better feel for the types of questions to which your child will be expected to respond.
Students should bring ear buds or headphones for testing, and a book to read if they finish early. No personal devices will be allowed in the testing site during testing. To help ease students' testing concerns, please ensure your child eats a good breakfast each testing day and gets plenty of sleep each night.
Thank you for supporting your child in this educational experience. If you have any questions or concerns, please do not hesitate to contact me.
Sincerely,
Mrs. Randi De Brito, Principal