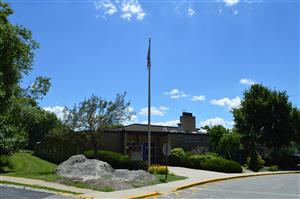 Ms. Randi DeBrito
Principal
Ms. Debbie Kalish
Principal's Secretary

Ms. Lorrie Kern
Secretary

Ms. Lauren Provost
Guidance &
Anti-Bullying Specialist

Ms. Kerri Adams
Nurse, X5613

School Hours:
8:30 am - 2:50 pm
2 Francine Place
Oak Ridge, NJ 07438
(973) 697-2414
Fax (973) 697-2049
---
Dear Parents and Guardians,
I hope you all had a wonderful, relaxing break! I can't believe we are starting the final stretch of the school year! There are a lot of wonderful educational happenings going on at White Rock and lmany more to come before the school year ends. Please continue to check the calendar on our webpage for listings of upcoming events and activities. Here is a sample of some of the great things that have gone on at White Rock over the last month:
White Rock held its annual Science Fair March 13-15. Over 200 students created demonstrations or did experiments using the scientific method, and shared their results and findings with our student body during school hours, and then with parents and community members in the evenings.


In Social Studies third grade students created their version of a new Mt. Rushmore


In Science third grade classes wrote a claim on what solutions would help the salmon migrate.


In Social Studies, fifth grade students studied primary sources and debated whether or not Christopher Columbus was a hero.


5th Grade Band performed in a Solo & Ensemble Concert on Tuesday 3/27. A few students wrote their own pieces of music for this concert, which were performed by ensemble groups in the band


4th Grade Chorus and 5th Grade Band will be performing at the annual Rockaway Mall Project on Monday 4/9


Through a generous donation from our PTA, White Rock students enjoyed a schoolwide assembly called Math Magic


Please remember to check the Parent Portal regularly. In addition to the "Gradebook", please check the "Food Services" tab. Information on account balances, as well as recent purchases, can be found here.
Have a wonderful month!
Mrs. De Brito