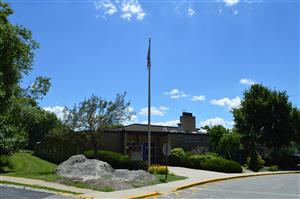 Ms. Randi DeBrito
Principal
Ms. Debbie Kalish
Principal's Secretary

Ms. Lorrie Kern
Secretary

Ms. Lauren Provost
Guidance &
Anti-Bullying Specialist

Ms. Kerri Adams
Nurse, X5613

School Hours:
8:30 am - 2:50 pm
2 Francine Place
Oak Ridge, NJ 07438
(973) 697-2414
Fax (973) 697-2049
---
Read Across America Week
Monday, March 2nd- Friday, March 6th

Monday, March 2 Read Across America Kick-off Celebration: Hat's Off to Reading!
Wear a hat.
Tuesday, March 3 Oh, the Places You'll Go!
Wear clothes to show what job you want to do when you grow up,
or wear traditional clothes worn in a country that you would like to visit.
Wednesday, March 4

Dress to Impress!
Wear your favorite fancy clothes.
Thursday, March 5 Crazy Hair/Crazy Sock Day
Wear your hair in a crazy way, and/or wear crazy or mismatched socks.
Friday, March 6 Pajama Day
Wear Pajamas.
--------------------------------------------------------------------------------------------------
Dear Parents:
It's February! It's hard to believe it is still winter, it certainly hasn't felt much like it these last couple of months! The students and staff continue to be busy learning and growing daily. We've had a great month with some wonderful activities. You can see some of them below. We are looking forward to our Science Fair in March, along with our 5th grade Solo and Ensemble Concert. Have a great month!
Third graders are enjoying their Science unit on physical science. They are learning about force and motion, making sliders out of objects and testing out their speed. For example, students had sandpaper, cardboard, and bottle caps. They had fun adding weight to the slider and finding out that the weight helped the slider go faster.


Third grade enjoyed their annual Ellis Island simulation. Students dressed up as immigrants and visited the different stations to see if they could pass and be accepted into the United States as immigrants. Stations included the legal room, medical room, education room and the port where they could exchange their money and buy some food.


The PTA sponsored a presentation on mindfulness by Ryan Benz. Ryan recently walked the entire Appalachian Trail from Georgia to Maine, and talked about his experiences and they things he did along the trail to be mindful and live in the moment to enjoy the experience to its fullest. He helped the students learn how to apply this to their own lives.


Fourth grade classes are finishing up creating informational books in writing and are moving on to writing biographies this month.


As part of Art Enrichment, 4th graders are working with Mrs. Ortense and Mrs. Tamayne-Hettema on STEAM activities- mainly creating Stop Motion Animations.


February has been fraction filled fun for fifth grade. Students have been adding and subtracting and will soon be multiplying and dividing.


3rd- 5th grade art students have just submitted entries to the MCCEA Poster Design Contest and 4th and 5th graders are currently competing in a coloring contest sponsored by the American Legion. We have had several winners in both contests in the past and are eagerly anticipating the results from this year's contests.


White Rock School celebrated The Great Kindness Challenge in many ways. Along with different themed dress up days, classes competed in a door decorating contest with the theme of kindness. A winning door was selected for each grade level and the winning classes selected the type of reward they wanted to receive, such as a pajama day or movie day.
Sincerely,
Mrs. De Brito

February 24-26 - 5th Grade Mock Trials
February 24-28 - Wellness Week (see daily theme days above)
March 5 - Infrastructure testing
March 10 - Early Dismissal at 1:20 for teacher Professional Development
March 12 - PTA Meeting, 7:30 PM
March 19 - End of the 2nd Trimester
March 24 - 5th Grade Science Fair, 6-7 PM
March 25 - 4th Grade Science Fair, 6-7 PM
March 25 - portal opens for Report Cards
March 26 - 3rd Grade Science Fair, 6-7 PM
March 30 - 5th Grade Solo and Ensemble Concert, 6:00 PM for parents