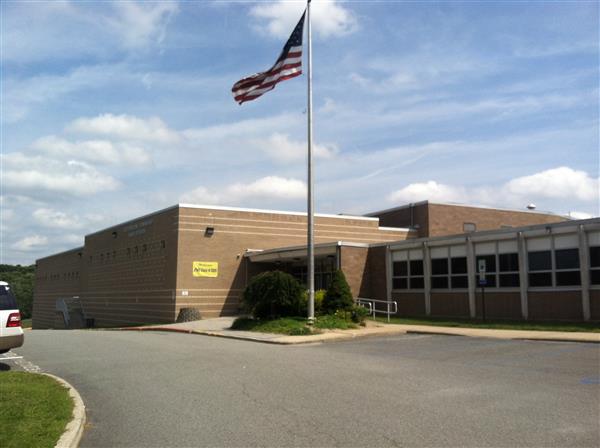 Dr. Timothy Plotts
Principal
Ms. Vickki Nadler
Assistant Principal
Ms. Michelle Papa
Assistant Principal
Ms. Amy Robinson
HIB Specialist
Ms. Jennifer Kraljevich
Nurse, X5821

School Hours: 7:15 am - 2:15 pm

1010 Weldon Road
Oak Ridge, NJ 07438
(973) 697-3535 / Fax (973) 208-8409
Follow us on Twitter: @JTHSFalcons
JTHS Mission Statement
The mission of Jefferson Township High School is to encourage all students to reach their potential as self-directed and creative individuals who act responsively in dealing with intellectual, social/emotional, technical, environmental, ethical, and fiscal decisions.
This mission will be accomplished through a shared commitment to excellence in teaching and learning, enhanced by active partnerships, mutual respect, and communication between the school, students, families, and the greater community.
Jefferson Township High School
Jefferson Township High School is a four-year, comprehensive public high school with an enrollment of approximately 960 students in grades 9-12. The high school provides many challenging academic, athletic and co-curricular programs. The high school has up-to-date facilities for our students which include a dedicated music wing, science labs, robotics lab, television studio and state of the art culinary lab. A recently passed referendum in 2019 has enhanced many facets of our educational facilities. The broad range of curricular offerings in the core academic areas, business, fine and related arts, as well as technology completely align with the updated NJ Standards. Required academic and elective programs at the school build on previously acquired skills by emphasizing higher-level thinking, problem solving, and application, understanding and reasoning.
Academic, honors and advanced placement courses, as well as independent study programs, are available. JTHS offers 24 Advanced Placement classes. 84.6% of the students in these classes scored 3 or higher on the AP Examination. 86% of the Class of 2019 continued their education beyond high school, with 51% going on to four-year colleges, and approximately 30% to two-year colleges, specialty business, technical and trade schools, or the military.
Technology is plentiful throughout the high school and is utilized in every level of instruction. Students are actively engaged in lessons that are accompanied by web-based media using interactive projectors and boards. We have implemented and gone one to one with laptop computers for each student in grades 6-12. Mobile laptop carts are also available to aide in instruction. The laptop carts of convertible laptop/tablet computers are deployed throughout the building. Staff members maintain individual web pages and many courses are accompanied by technology-enriched activities utilizing mobile technology. This school year the staff will continue to focus on the Google Classroom. The teachers are focused on extending the use of technology applications within the classroom, improving the use of digital tools to include the use of a learning management system, and through digital technology create a culture of respect and responsibility.
The students, staff, parents, and community are justifiably proud of Jefferson Township High School and work hard to maintain its high standards of excellence. For the 2019-2020 school year Jefferson Township High School will continue to be using a 4-day rotating drop block schedule. This change last year increased instructional time in the classroom from 42 minutes up to 53 minutes. The 51 co-curricular programs and 28 interscholastic sports offer a complete range of options for males and females of all grade levels. We are consistently recognized by the NJSIAA for our sportsmanship and during the 2017-2018 were recognized by the Directors of Athletic Administration of New Jersey (DAANJ) as the only program in New Jersey to be designated as a "Program Of Excellence." The guidance department was recognized by the American School Counseling Association as a Recognized Model School Counseling Program (RAMP). In 2019 Jefferson was recognized by U.S. News and World Reports as a "Best High School." In 2019 Jefferson Township High School was recognized as a "2019 Best Schools" by the Niche Report and as a 2019 "Best Communities For Music Education" by the NAMM Foundation. Students compete in the Northwest Jersey Athletic Conference as well as Morris County tournaments in athletics. Additionally, students compete in the academic arena in the Academic Decathlon, Academic Bowl, Math League, Science Leagues, Debate Team, as well as other academic competitions. The high school has active chapters of the National Honor Society, Student Council, FEA, Red Cross, FBLA, and DECA. Extraordinary Instrumental and Choral Musical programs are an integral part of the success of the Jefferson Township High School program.
Dr. Timothy Plotts
tplotts@jefftwp.org
973-697-3535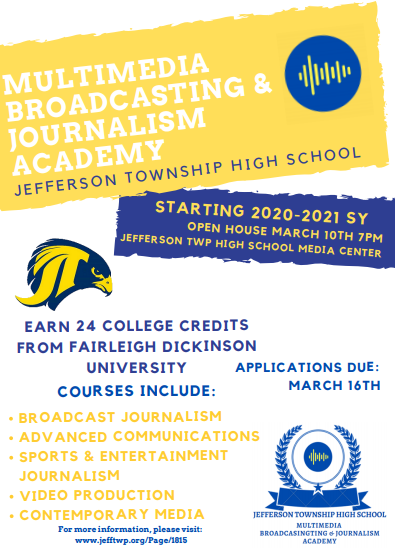 For Immediate Release: December 16, 2019
Jefferson Township High School Placed on the College Board's 10th Annual AP® District Honor Roll for Significant Gains in Student Access and Success
250 School Districts Across the U.S. and Canada Are Honored
Oak Ridge, New Jersey — Jefferson Township High School is one of 250 school districts in the U.S. and Canada being honored by the College Board with placement on the 10th Annual AP® District Honor Roll. To be included on the 10th Annual Honor Roll, Jefferson Township High School had to, since 2017, increase the number of students participating in AP while also increasing or maintaining the percentage of students earning AP Exam scores of 3 or higher. Reaching these goals shows that this district is successfully identifying motivated, academically prepared students who are ready for AP.
"I would like to congratulate our students, teaching staff, and administration on an incredible accomplishment. The teachers do a terrific job of preparing our students for success in school and in life. The students do their part in preparing throughout the school year for academic success. The ability to foster student achievement at the highest levels is what being an AP student is all about. I am so proud to work with this top notch team of educators and I look forward to the continued success of our student body!" (Timothy Plotts, Principal)
National data from 2019 show that among American Indian/Alaska Native, Black/African American, Hispanic/Latino, and Native Hawaiian/Other Pacific Islander students with a high degree of readiness for AP, only about half are participating. The first step to getting more of these students to participate is to give them access. Courses must be made available, gatekeeping must stop, and doors must be opened equitably. Jefferson Township High School is committed to expanding the availability of AP courses among prepared and motivated students of all backgrounds.
"With more students participating and succeeding in AP in this district, more students are getting a head start on college by earning college credit during high school," said Trevor Packer, senior vice president of AP and Instruction at the College Board. "We are pleased to honor the teachers and administrators who have worked to clear a path for more students of all backgrounds to advance through AP."
Helping more students learn at a higher level and earn higher AP scores is an objective of all members of the AP community, from AP teachers to district and school administrators to college professors. Many districts are experimenting with initiatives and strategies to see how they can expand access and improve student performance at the same time.
In 2019, more than 4,000 colleges and universities around the world received AP scores for college credit, advanced placement, or both, and/or consideration in the admissions process. Inclusion in the 10th Annual AP District Honor Roll is based on a review of three years of AP data, from 2017 to 2019, looking across 38 AP Exams, including world language and culture.
For inclusion on the 10th Annual AP District Honor Roll, districts must meet the following criteria:
 Increase participation/access to AP by at least 4% in large districts, at least 6% in medium districts, and at least 11% in small districts;
 Increase or maintain the percentage of American Indian/Alaska Native, Black/African American, Hispanic/Latino, and Native Hawaiian/Other Pacific Islander students taking exams and increase or maintain the percentage of American Indian/Alaska Native, Black/African American, Hispanic/Latino, and Native Hawaiian/Other Pacific Islander students scoring 3+ on at least one AP Exam; and
 Improve or maintain performance levels when comparing the 2019 percentage of students scoring a 3 or higher to the 2017 percentage, unless the district has already attained a performance level at which more than 70% of its AP students earn a 3 or higher.
When these outcomes have been achieved among an AP student population in which 30% or more are underrepresented minority students (American Indian/Alaska Native, Black/African American, Hispanic/Latino and Native Hawaiian/Other Pacific Islander) and/or 30% or more are low-income students (students who qualify for free or reduced-price lunch), a symbol has been affixed to the district name to highlight this work.
The complete 10th Annual AP District Honor Roll can be found here: https://apcentral.collegeboard.org/about-ap/awards/district-honor-roll
About Jefferson Township School District
Jefferson Township is a rural-suburban community located in the northwest corner of Morris County 40 miles west of New York City. The township is known for being a year- round recreational center encompassing 42 square miles, including the Mahlon Dickerson Reservation, Lake Hopatcong, New Jersey's largest fresh water lake, and many other lake communities. Jefferson Township has a population of over 20,000 residents.
Jefferson Township High School is a comprehensive public high school with an enrollment of approximately 1000 students in grades nine through twelve. The school system is accredited by the NJ Department of Education. JTHS offers 28 interscholastic sports and 51 co-curricular activities.
JTHS prides itself of being an inclusive school. As such, JTHS annually sponsors a unified track meet with neighboring school districts through the Special Olympics Unified Sports Program. In addition, JTHS is recognized by NAMM as a Best Community for Music Education for 2017, 2018, and 2019.
Jefferson Township High School offers a challenging and rigorous curriculum that is designed to meet the diverse educational goals of its students. The program of studies includes 35 Honors level courses and 24 Advanced Placement courses in the areas of English, social studies, mathematics, science, business, world languages, art, and music.
JTHS students are given an opportunity to complete an independent study that reflects an accelerated and expanded study in relation to the regular school curriculum. During 2016-2017 school year, JTHS welcomed its first cohort of freshman students to the Academy of Environmental Studies. This highly selective program is part of the Morris County Vocational and Technical School and is open to qualified students from Morris and other neighboring counties.

Subject: U.S. News & World Report's Rankings: 2019
Dear Parents and Guardians,
Jefferson Township High School was recently named one of the best high schools in the country by U.S News and World Report. The school was ranked 145​th​ in New Jersey out of 438 high schools or in the top 33%. In the nation, Jefferson Township High School ranked number 3,908 out of 17,245 school districts in the rankings or in the top 22%. The scoring criteria included college readiness, the percentage of students completing AP courses (36%), the graduation rate (95.2%), and the percentage of students proficient in reading and math.
In recent years, Jefferson Township High School has been recognized by the College Board for the terrific AP scores and the participation rate of its students. The 2019 Best Schools Niche Report said "​Jefferson Township High School is an above average, public school located in Oak Ridge, NJ." The Niche Report gave Jefferson Township High School a "B" ranking​. The ​Niche Report ranks nearly 100,000 schools and districts based on statistics and millions of opinions from students and parents.
Best High School Sports in New Jersey
123 of 591
Best College Prep Public High Schools in New Jersey
191 of 400
Best Public High Schools in New Jersey
215 of 411
There are many reasons for these improvements, but it all starts with great students and great teaching. The district offers so many opportunities for students to be able to get involved in the total school program and participate in areas of high interest to them. This is what fosters a great learning environment. The fact that Jefferson Township High School ranked so well among 35,035 teachers and 430,768 students is a testament to the total team approach that is applied from the administration, to the teachers, and ultimately the students.
We thank everyone for their hard work, and look forward to continued success!!!
Best regards,
Tim Plotts, Ed. D.
Principal
Jefferson Township High School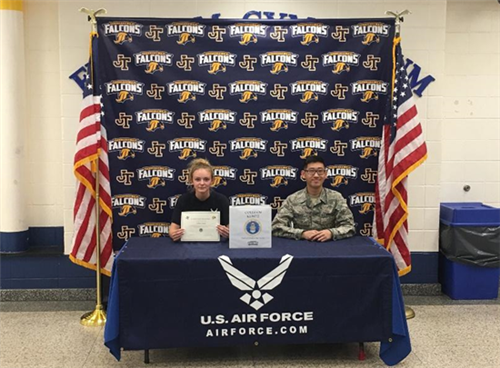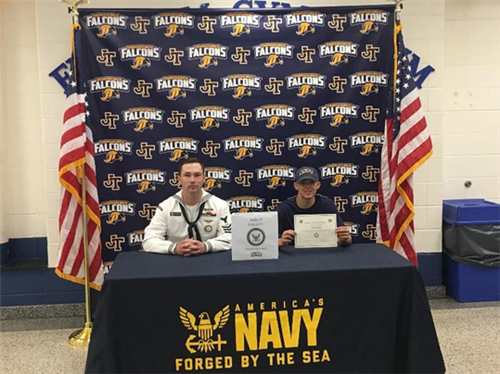 The Jefferson Township High School Community hosted our first ever Armed Forces Student Acknowledgement Day on June 11, 2019. Principal, Dr. Timothy Plotts, led the ceremony and first congratulated and thanked our two students, Colleen Kuntz, who will be attending The United States Air Force, and Jared Malley, who will be attending The United States Navy, for their service. The students then had a moment to share a few words about what branch of service they would be attending and what their future military career plans are.
Members present at the Armed Forces Student Acknowledgement Day signing included the student's parents, school administration, the guidance department, members of the teaching faculty, friends, and a representative from both the United States Navy and the United States Air Force. Each student was presented with a certificate acknowledging their intent to serve and thanking them for their commitment to the United States.
The ceremony ended after many pictures were taken of both Colleen and Jared with their military representatives, parents, family, and friends. A big thank you to everyone who participated and made the first ever Armed Forces Student Acknowledgement Day a success.
February Students of the Month
Art ----------------------- Cassidy Blaha
Business ----------------- Jacob Wacker
English ------------------- Vivian Sarmiento
Health/Physical Education- Logan Kiesling
Mathematics ------------- Erica Albertson
Mathematics ------------- Thomas Dean
Media Center ------------ Max Woelful
Music --------------------- April Manasia
Science ------------------ Madison Poulas
Social Studies ----------- Emma Conte
Technology -------------- Derek Schneyer
Video Production -------- Lily Snow
World Language ---------- Matthew VanVeen
Please look at the Virtual Backpack on Quick Links for events and camp flyers.