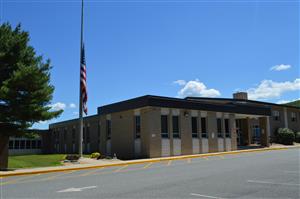 Dr. Kelly Cooke
Principal
Mrs. Kathy Tobia
Asst. Principal
Mr. Robert Hayzler
Asst. Principal
Ms. Joanne Martino
SAC & Anti-Bullying Specialist
Mrs. Liz Conley
Nurse, X5720
School Hours: 7:35 am - 2:15 pm



1000 Weldon Rd.
Oak Ridge, NJ 07438
(973) 697-1980
Fax (973) 697-1348
MS Home Webpage: March 2019
Let's hope the cold and white days of winter are finally behind us! Our Jefferson Middle School students and staff are looking forward to Spring and the sunshine and warmth that comes with it! I'm sure you are as well.
Every year, each middle school throughout Morris County identifies one 8th grade student as its recipient of the Morris County Middle School Leadership Award. The Morris County Superintendents honor students for their actions and deeds that represent model citizenship and leadership in their respective school communities. Honored students have demonstrated that their academic, extracurricular, and community leadership has had a positive impact on their school environment and that they serve as role models for others. This year, three Jefferson Township Middle School student finalists were interviewed by teachers and administrators for consideration for this prestigious award. Please join me in congratulating each of the students, Branna Bell, Katelynn Peterson, and Alexander Tuosto for being awarded this honor. A very special congratulations goes to Katelynn Peterson for becoming the Jefferson Middle School Leadership Award recipient for the 2018-2019 school year! Katelynn and her family will join Mrs. Howe, Superintendent of Schools, and me at the Morris County Middle School Leadership Award dinner ceremony in early May. We are proud of Katelynn as well as Branna and Alexander for a job well done and for their efforts to make the JT Middle School a rewarding and special place to learn and grow.
Thank you for visiting and please be sure to check out our webpage, on the left, for upcoming events, announcements, and activities for JTMS students.
Sincerely,
Dr. Cooke
Principal