Here are the Grade 8 Grand Concours Winners!
From left to right, back row: Zachary Verlardi,-Silver Medal, Kedar Padalkar-Silver Medal, Niriksha Jayakumar-Honorable Mention, Erica Wurster-Bronze Medal, Raymond Zhao-Silver Medal, Shayla Meli-Honorable Mention, Grade 8 French Teacher-Marybeth Neuschatz
From left to right front row:
Morgan Hine-Honorable Mention, Shanna Leek-Honorable Mention, Ella DiLizia-Honorable Mention, Cara Rexroad-Bronze Medal, Samantha Spaloss-Honorable Mention.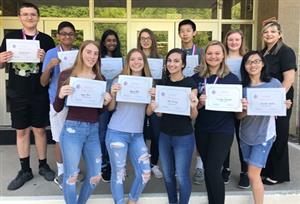 6 Blue Rain Barrel night and the Repurposed items the children made for the event.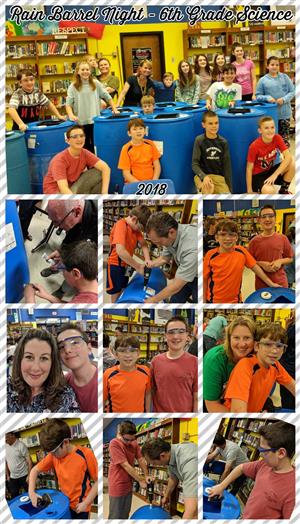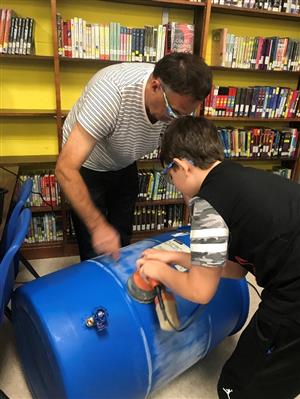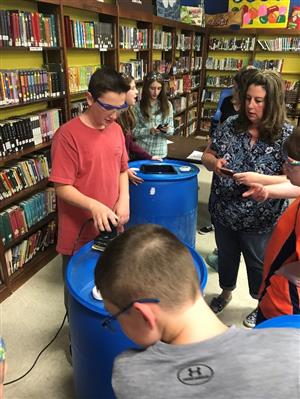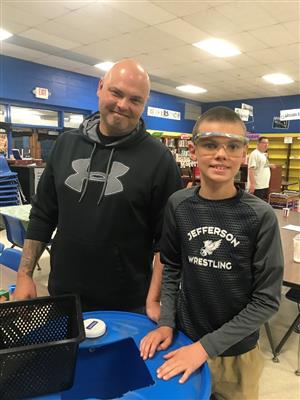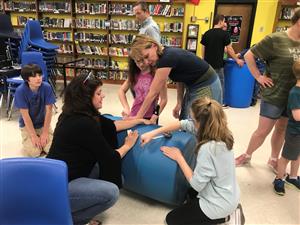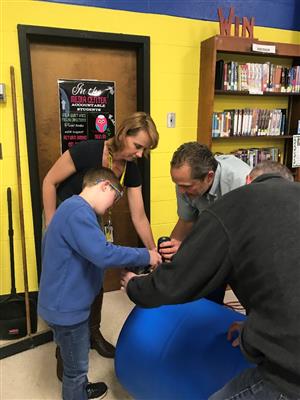 This year the elementary instrumental directors are using a more hands-on approach to the way 3rd grade students choose their band instruments.
The 7th grade band and Tri-M students helped the students try flute, clarinet, saxophone, trumpet, and trombone to make their decision easier. The middle schoolers also had a great time spending time eating lunch and having recess with the 3rd graders.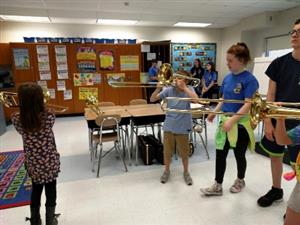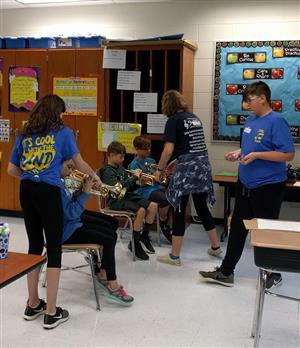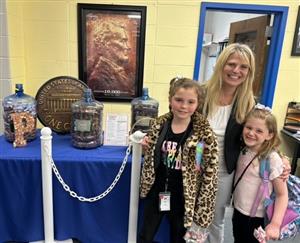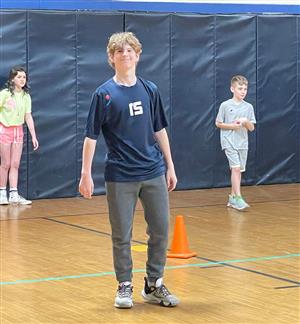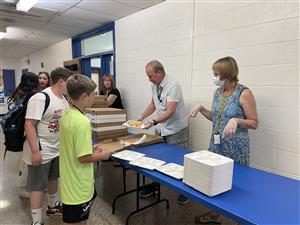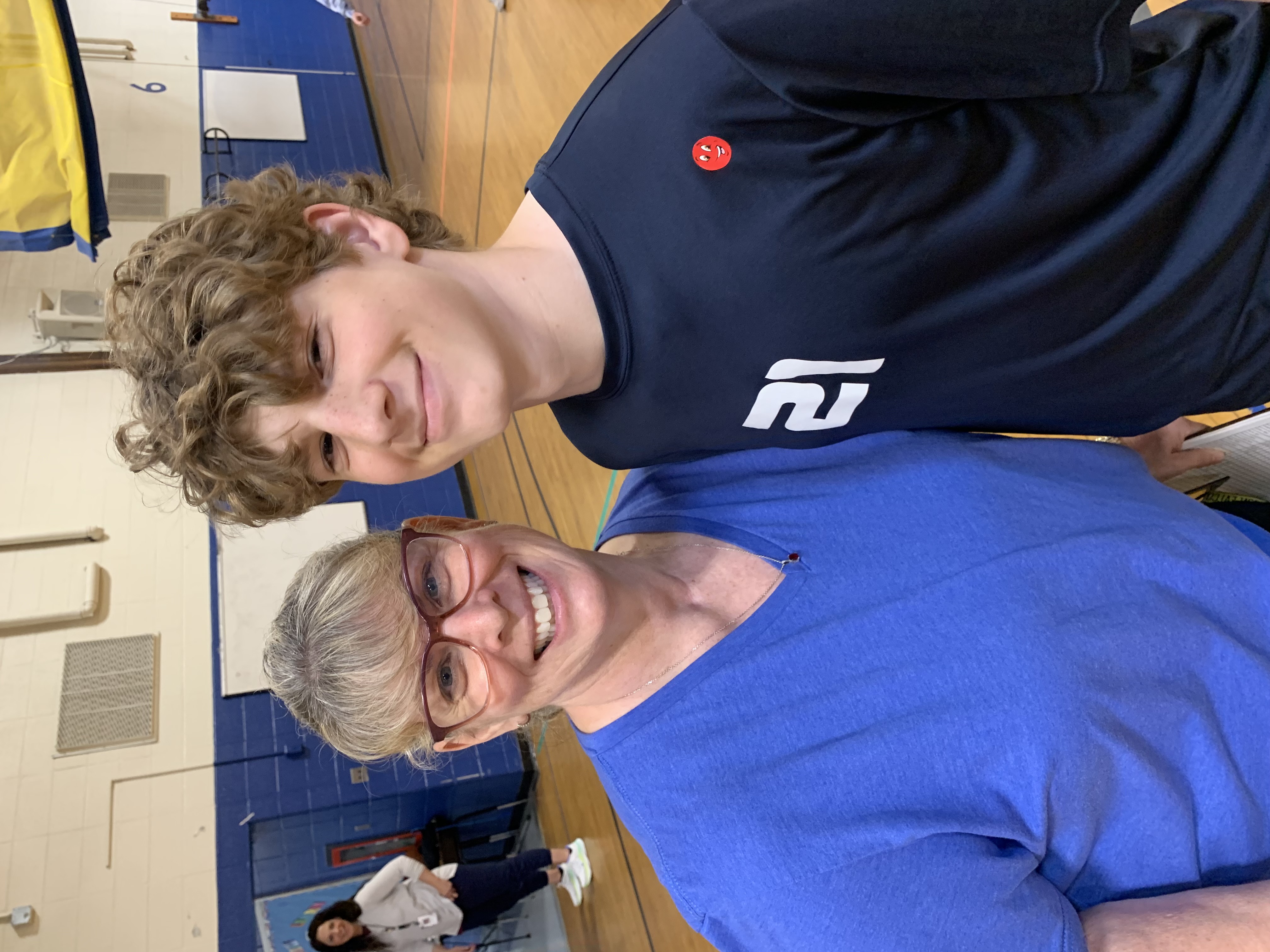 7th Grade Science Teacher, Mrs. Bassolino stands with Hayden Mills as he displays prizes won through the Scholastic Plant Hybrid Contest this Spring.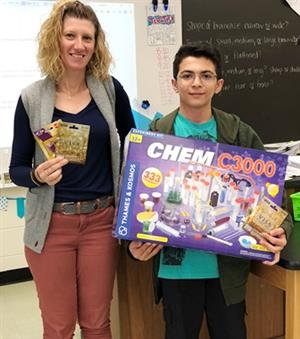 Morris County Middle School Leadership Award winner, ElenaSpagna receives her award plaque during a dinner ceremony at the Hanover Marriott. Congratulations Elena!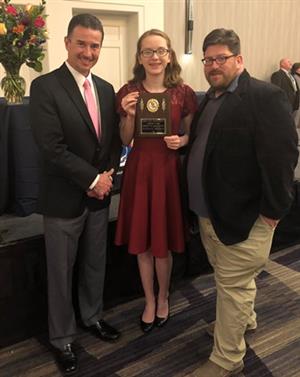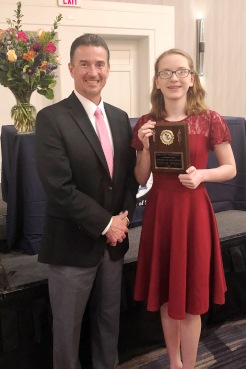 ---
On April 20th and 21st, over 80 JTMS students participated in the spring musical titled, Into the Woods, Jr. The performance included witches, wolves, and ghostly figures as well as classic fairy tale characters such as Little Red Riding Hood, Cinderella, and Jack, who famously climbed the beanstalk (which made it's climb up the side of the stage thanks to the masterful set and props design team of teachers, Marybeth Neuschatz, Jennifer Foley, and Victoria Wermert and some craftsmanship from Jay Vastola). Our students, representing all three grade levels, worked from November to April to master the difficult Stephen Sondheim score, with the expert help of Vocal/Instrumental Director, Danielle Schreck to learn dance numbers taught and created by eighth grader, Jessica Thomas. Students memorized a great amount, on top of their already busy academic and additional extra-curricular commitments. Teacher, Joann Patalive helped by several eighth graders put together costumes that captured the essence of each character to a tee. Lighting was run by trained students under the keen eye of teacher, Rachel Koenig and the help of JTHS Junior, Andrew Babitch. When the lights went up, everyone knew we had a truly spectacular show! Teacher, Jennifer Escolano, and several student-ushers greeted community members sold beautiful flowers and served refreshments during intermission. The large crowds, totaling over 700 people between the two performances, talked about how they never expected such talent from students so young; however, Musical Director, Mrs. Cheryl Miskimon knew all along. From the beginning, Ms. Schreck and Mrs. Miskimon told the performers that they may only be in middle school but that didn't mean there was any less they could do on a stage than older actors. As such, they rose to meet that bar at every turn. Into the Woods, Jr. was Mrs. Miskimon's first directorial experience with JTMS in 2002 and it remains a production close to her heart. Mrs. Miskimon reflected on the performance by stating, "the 2018 cast honored every line and note of an incredible musical and I was honored to have worked with such an amazing group of young individuals."
JTMS families participating in Take Your Child to Work Day on April 26, 2018!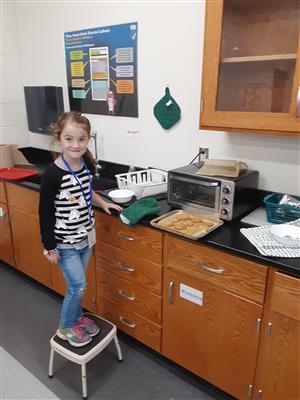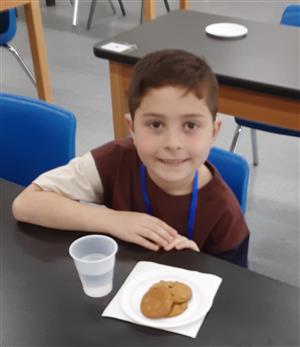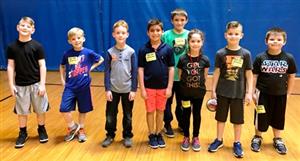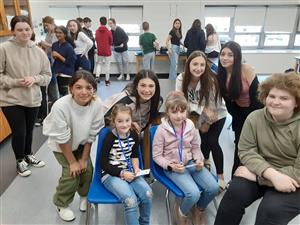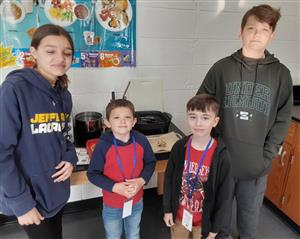 Thank you, everyone who participated in our coffee shop. The boys learned several recipes during the process and we raised $200 for the Sea Turtle Rescue.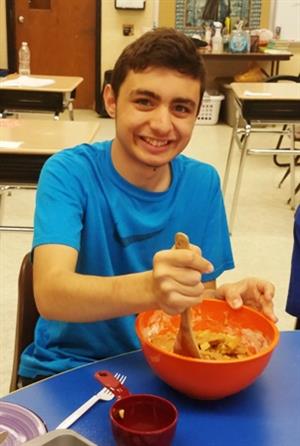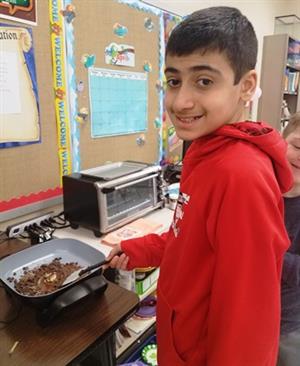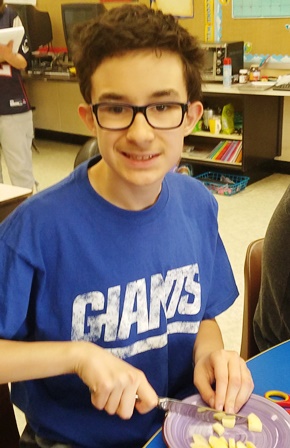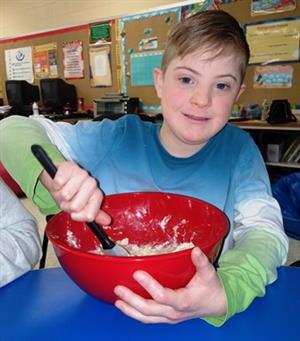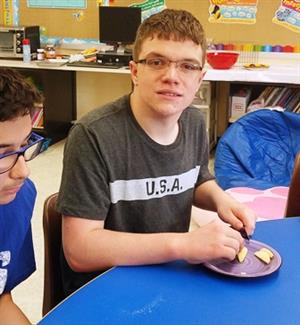 Sixth graders were recently given an assignment to research an influential person who contributed to the social reform of civil liberties and the Civil Rights Movement during the 19th and 20th centuries, both for the minority races and gender equality. Students cooperatively and independently conducted research on this person and created a trifold project which included an informative essay, a timeline, and related images.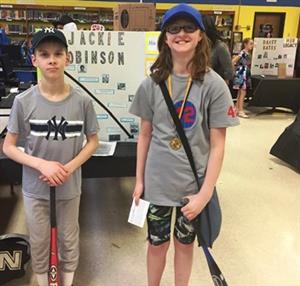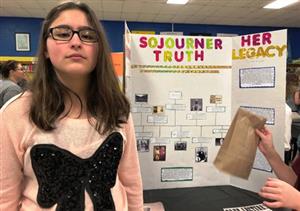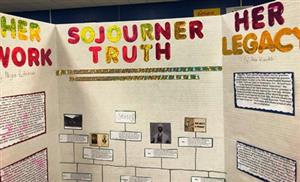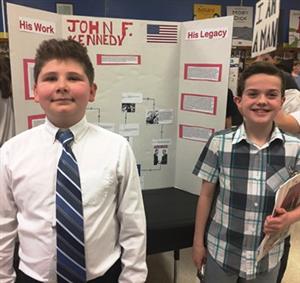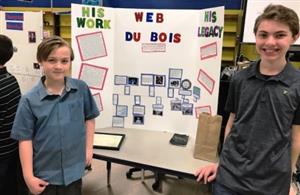 ---
Two Jefferson Township Middle School student finalists were interviewed by teachers and administrators for consideration for the Morris County Middle School Leadership Award. Please join me in congratulating both students, Austin Lobel and Elena Spagna for this special honor. Congratulation goes to Elena Spagna for becoming the Jefferson Middle School Leadership Award recipient for the 2017-2018 school year! Elena will join Dr. Tierney, Superintendent of Schools, and Dr. Cooke at the Morris County Middle School Leadership Award dinner ceremony in early May. We are proud of Elena and Austin for a job well done and for their efforts to make the JT Middle School a rewarding and special place to learn and grow.
---
Here are some pictures from this Saturday's JTMS Tri-M Honor Society Musical Petting Zoo. There were so many young potential Jefferson Twp. musicians, with our youngest participant being 3 years old and she had a BLAST! It was also great to have help from some JTHS music students. Please enjoy!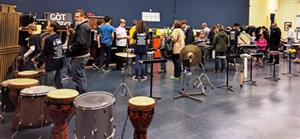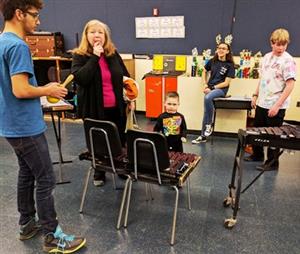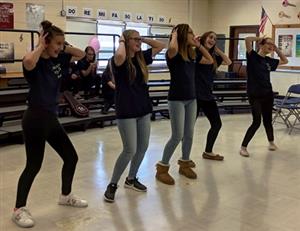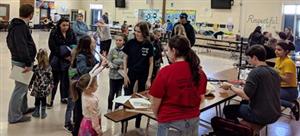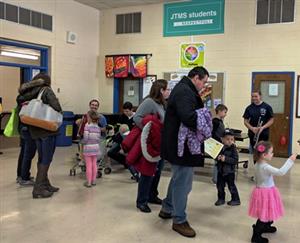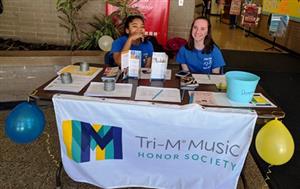 ---
JTMS students participated in the National Student Walkout Day. The students showed their support by signing a poster that will be sent to Parkland School, writing caring postcards, and observing a moment of silence in observation of the victims who died as a result of the tragic shooting in Parkland, Florida.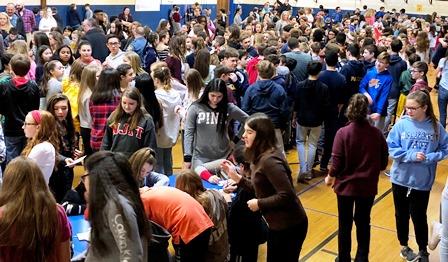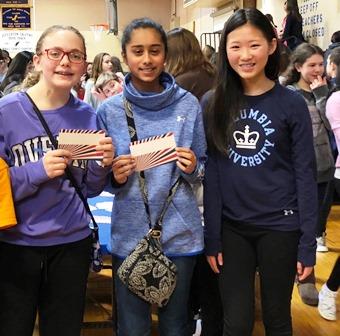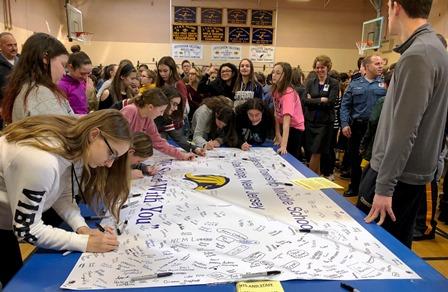 ---
As the A+ Challenge continues, participating schools have been sharing the success of their projects with Atlantic HealthySchools. Jefferson Township Middle School used their funding for a Physical Activity Fair as part of their School Wellness Week. Students were able to participate in martial arts and yoga.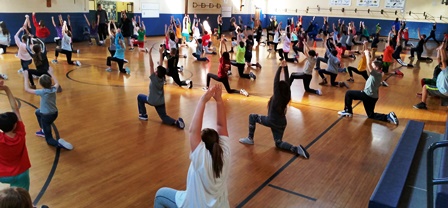 ---
It was a record-breaking season for the Jefferson boys soccer team. The Falcons easily cruised past their previous all-time wins record of 11 with a 16-6-2 record in the 2017 season. Jefferson won its first division title in program history by defeating Mount Olive, 2-0, on the final day of the regular season to clinch a share of first place with the Marauders. Also, Jefferson had never even hosted a home state tournament game, let alone won one, but it accomplished both of those things in a 5-0 victory over Sussex Tech in the first round of the North 1, Group 2 tournament. These achievements have earned Jefferson head coach Travis Gage the New Jersey Herald Boys Soccer Coach of the Year. Jefferson ended its season with a back-and-forth 3-2 loss to Newton, the eventual sectional title winner.