Our Mission:

The JTPS Facilities department's goal is to design, maintain, repair, and remodel our districts facilities to provide the students and staff with a high quality learning enviornment.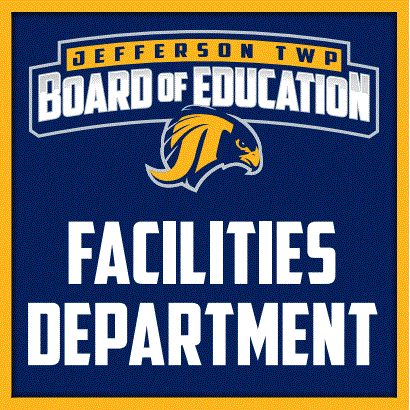 Nicholas Serignese
Supervisor of Facilities
nserignese@jefftwp.org
Ext. 5019

Jared Marquard
Assistant Supervisor of Facilities
jmarquard@jefftwp.org
Ext. 5016

Julie Jahnke
Facilities Secretary
jjahnke@jefftwp.org
Ext. 5017

1000 Weldon Road Oak Ridge, NJ 07438
What we do:

The Facilities Department is responsible for the maintenance and cleaning of our district's eight buildings used for the teaching and supporting of 2,500 students and 600 staff members. Our grounds staff maintains the care and condition of over 100 acres of property along with the various district sports fields.

With our team of 22 custodians, five maintenance, four grounds, and four administrative staff, we strive to create a safe and healthy learning enviornment for our district's students.
Work Order System:

Any maintenance requests should be put into the district work order system to be assigned to the appropriate staff. Please follow the link to FMX where a ticket can be entered: jefftwp.gofmx.com

Please follow the link below to watch a video on how to submit a new maintenance ticket:

https://help.gofmx.com/hc/en-us/articles/360003627471-User-Training-Video-Work-Requests

If you require any assistance with logging in or need an account set up, please contact the facilities office.

Also if you have any questions regarding an open work order you submitted please have the work order number available.
Contact us

Facilities Office: (973)-663-0161

Office Fax: (973)-663-5004